Day Shift
Full Time
17 USD / Hour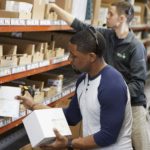 Picking Clerk
Personnel Plus is NOW HIRING for a Picking Clerk, in Nampa, ID.
Monday- Friday
10am tell DONE
8-to-10-hour days
$17/ hr.
Duties:
Picking medical supply
MHE/ Order Picker
Picking tickets
Picker is usually up in the air up to 30 Feet
Picking orders using voice picking technology while suspended in the air
Accurately checking, packaging and wrapping the correct items needed to complete customer order
Requirements
Must show STRONG attention to detail
Must be able to stand for full shift 8-10hrs
Must be drug free
Must have a clean background
Must be able to lift 25lbs-35lbs
Must have reliable transportation to and from work
Why work for Personnel Plus, Inc.
As the area's largest Staffing Service, we value adding you as a member of our great team
Your application will be considered for many urgent openings
Apply Today - work today
Flex pay - choose Direct Deposit, pay card, or paper check
Health Benefits - Medical, Dental, Vision, Disability, Life Insurance
We never charge a fee
To apply for this job, send us your resume OR Email Contact information OR call 208.466.6800 OR send a TEXT MESSAGE OR visit your local office OR click the Apply for Job button below
Trust our employment professional to be your advocate and help find that ideal position for you!