Day Shift
Grave Yard Shift
Swing Shift
Pay Starts: $10
Job ID: BUR1959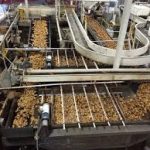 Website PersonnelPlus Personnel Plus, Inc.
Your Total Staffing Solution!
Employee is required to work at various packaging lines in the packaging area. Loading container boxes with cartons, bags and pouches of product, runs packed product through box sealers, and stacks boxes of package product onto the prepared pallet. Ability to work quickly and efficiently without direct supervision. Own transportation to and from the job site. Must be able to pass a pre-employment drug test, and must adhere to Good Manufacturing Practices. Can not have any felonies!
Hours: Days 8am to 4pm, Swing 4pm to 12am, Graveyard 12am to 8am.
Principal Accountabilities:
Ensure product is loaded in good condition, counts are correct and trailer is not overloaded.
2. Help Inventory Coordinators (cycle count).
3. Must comply with all safety regulations, attend safety meetings and follow all plant safety rules.
4. Follows all good manufacturing practices as set by the company policy.
5. All other duties as assigned.
Alignment with Core Values of the Company
Respect & Value Our People
Stay in Front of Change While Reducing Costs
Delight our Customers
Food Quality & Safety
Work Environment: The position requires heavy lifting, up to 75 lbs. Must be physically active and able to work around hot temperatures. Able to work under pressure with time limitations. Good hand/eye coordination and 20/20 corrected vision. Should be able to stand on concrete floors for extended periods, follow safety precautions, and utilize cleaning chemicals and sanitizers safely. Must be able to start work at least one half hour early each day, stay late on many occasions (possible Saturdays), work at different facilities. Tolerate cold conditions. Teamwork is a must.
Reasoning Ability: This position requires self-confidence and maturity to make decisions to solve problems with minimal direction. Must be a team player. React to change productively, be flexible and accept change. Good decision making skills and the ability to think ahead.
Interpersonal Skills: Team player, flexible and accepts changing assignments and accountabilities. Must provide excellent customer service and maintain confidentiality
To apply for this job, send us your resume OR Email Contact information OR call 208.678.4040 OR visit your local office OR click the 'Apply for Job' button below