Day Shift
Full Time
Grave Yard Shift
Long Term
Overtime
Swing Shift
Pay Starts: $11.05 - 12.00
Job ID: 110067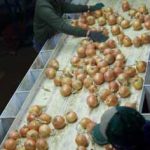 Website PersonnelPlus Personnel Plus, Inc.
Your Total Staffing Solution!
We are seeking employees for a fast pace production and packaging fry Food Company in Weiser. They are a major employer who packages frozen fried foods for many companies. This position requires reliability to show up for work, standing for long periods of time with scheduled breaks. The production lines are all different and duties will be according to work history you provide. Positions range from sorting onions rings, zucchini slices and appetizers, to mixing batter and packaging bags of frozen products into bags.
We are currently looking to fill the following positions as well
Sanitation Grave shift
Maintenance Technicians Swing/Grave Shifts
Day Shift: 6am-4pm         Pay: $11.05
Swing Shift: 4pm-2am     Pay: $11.14
Grave Shift: 10pm-7am   Pay:$12
Schedule: Depending on shift will be Monday-Saturday Sundays off.
Requirements:
Must be able to lift 25-50lbs
Must be able to walk up and down stairs
Must be able to stand during entire shift excluding breaks
Must be drug free
Must have transportation to get to and from work