Day Shift
Full Time
Grave Yard Shift
Long Term
Overtime
Rotating Shifts
Swing Shift
Temp to Hire
Pay Starts: $10.79 - 12.95
Job ID: 1643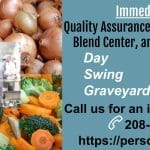 Website PersonnelPlus Personnel Plus, Inc.
Your Total Staffing Solution!
Are you currently looking for a Swing or Grave Shift??
We are now hiring for Production and Packaging Specialist on Swing/Grave shifts. You will be working with frozen onions and peppers. We are looking for highly motivated individuals to start employment as soon as TOMORROW!! We have multiple positions available based on your work experience and work ethic. These position is a full time temp to hire position in the Fruitland area. Call our office TODAY to set up an interview (208) 453-7900.
Production: Employee is responsible to work in the general duties of production including trimming onion tops, tails, and peels, inspecting onions and peppers for defects and removing defects and/or placing onions in pockets of topper/tailer machines in a safe and efficient
Packaging: Responsible for the safe and efficient handling and packaging of all finished product including making and lining boxes, stacking boxes, and filling boxes and/or totes.
We are also looking to fill the following positions:
Forklift Operator

HR Assistant
Production Pay $$
Swing Pay: $11.14

Grave Pay: $11.54
Packaging Pay $$
Swing Pay $11.67

Grave Pay $ 12.07
Requirements:
Must be able to stand for long periods of time

Must be able to lift at least 50lbs and 20lbs consistently

Must be a reliable worker, with transportation to get to and from work

Must be drug free
Location: Fruitland