Day Shift
Full Time
Temp to Hire
Pay Starts: $12.00
Job ID: 76091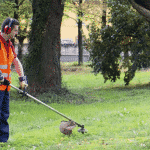 Website PersonnelPlus Personnel Plus, Inc.
Your Total Staffing Solution!
Property Operations & Maintenance Tech
(Exterior Maintenance-Landscaping)
Policy: To make all of the Twin Falls owned properties are a clean, attractive place to shop.
Essential Functions
You are responsible for every aspect of the physical condition of the parts of the shopping center. This excludes only the interior of the stores, their glass, doors and hvac systems. Your duty is to keep all areas, clean, in good repair, safe and to improve conditions, not just keep them as they are.
Thoroughly inspect the entire property for hazards and take immediate corrective action.
Contact helpdesk each morning, advise of any conditions needing attention that were noticed during inspection and receive requests for actions needed.
Remove all litter and other refuse from the property.
Keep sprinklers in good operating conditions resulting in green lawns without brown spots.
Cut grassy areas (Target and Recruitment Center)
Trim areas where mowers cannot get.(Target and Recruitment Ctr)
Edge curbs, sidewalks and mow strips.(Target and Recruitment Ctr)
Blow debris from mowing, trimming and edging away from sidewalks, curbs, etc..(Target and Recruitment Ctr)
Whenever operating any machines listed above, wear long pants, safety glasses and leather shoes.
Keep all sidewalks power washed, without stains and gum.
Improve landscape by removing dead material, maintaining species separation, trimming shrubs and trees as you are able.
Keep all trash and freight areas clean.
Contact store managers when items are being left outside of stores that are not permitted, pallets, trash, etc.
Contact property Public Safety to assist when actions needed fall under their duties.
Report any accidents.
Always look for opportunities to help the customers.
Assist management personnel.
SPECIFIC DUTIES (An outline of how the employee is to do each essential function including equipment and supplies to be used. Include Customer Services.)
Whenever any trash is observed inside or outside the building or any outbuildings, dispose of it. Tools used may include, brooms, or trash pickers, dustpans, flat shovels, rakes, wheelbarrows or backpack blower.
Maintain and repair property sprinkler system including but not limited to adjusting and/or replacing sprinkler heads and valves, maintain sprinkler clock and data records, repair all leaks, etc.
Most mowing will be done with walk behind mowers and you will be responsible for removal of bagged clippings. Never scalp turf.
Trimming is done with 2-cycle gas powered trimmers. Never trim an area bordered by sidewalks. Trim around objects where lawnmowers won't go, such as light poles, sprinkler heads, rocks, signposts, etc.
Edging is done with a gas powered edger. The object is to produce a clean edge on grassy areas along all concrete edges. You are not operating a concrete saw, only a machine to trim any overhanging blades of grass.
Blowing is done using a backpack blower. Simply remove clippings and debris from all sidewalks, curbs and mow strips. Use a back and forth sweeping motion, only enough throttle to move the debris – example – blowing grass clippings takes less throttle than blowing loose gravel. (Always be aware of passing vehicles and pedestrians.)
When operating any of the machines listed, you will wear long pants, leather shoes, safety glasses as assigned by your supervisor – NO EXCEPTION! (shorts are ok)
You are required to report any industrial accidents to your supervisor immediately.
You are required to be on the lookout for customers who need help with packages, opening doors, locating their cars or needing directions, etc..
Your help may be needed with running errands, set-up and take-down of promo items, cleaning vacant spaces, etc.
The above is a basic outline of your job duties. These are not to be considered your only duties. You will be required to perform other duties as assigned.
SUPERVISION RECEIVED
The Operations Team is directly supervised by the Operations Director. Requests for Customer Service or Maintenance service may also come from the Customer Service Staff. Additional tasks and direction may come from any member of the Management Team, to include the Property Manager, Marketing Director and Security Director.
TRAINING – EVALUATION
Each employee is required to complete the Team Training Procedure for his/her specified Job Description. He/she must also successfully pass each trainee evaluation procedure within a required time frame to become a permanent employee. Each employee will be evaluated once or twice per year by his/her immediate supervisor.
CONSEQUENCES OF ERROR
As members of the Operations Team you will have access to and may become aware of certain things that are confidential. These may consist of standing orders, staffing levels, security incidents, banning forms, suspect pictures, tenant contact listings, management and employee contact listings, payroll and or pay discrepancies, prospective tenants, vacating tenants, problem tenants, problem employees, etc. Disclosing of any company information is considered a breach of security. This could result in the comprising of the security function, harassing phone calls and cause unease among employees and/or tenants. Disclosing of any information and failure to perform job functions as requested could jeopardize your position. This job description is designed to give each individual a basic idea of the function of the Operations Staff. The full function of each employee will be discussed during the mandatory training period.