Quality Manager
Day Shift
Full Time
Temp to Hire
Salary: 60000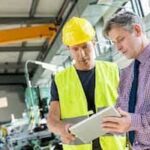 Website PersonnelPlus Personnel Plus, Inc.
Your Total Staffing Solution!
The Quality Manager is responsible to coordinate all quality assurance control for the
organization. To monitor and respond to all quality claims and complaints. To, as
needed, visit customer facilities to create understanding of business requirements and
create quality agreements. The Quality Manager is required to know and manage to
AS9100 and ISO 9001 standards and have ability to ensure implementation;
documentation; and the transparency required for regular audits. The Quality Manager
is responsible to direct the quality department, and for building and maintaining
relationships in a team environment modeling professionalism, inter-personal skills,
problem solving, adaptability, and personal value commitment.
ESSENTIAL DUTIES AND RESPONSIBILITIES include following:
• Coordinate to maximize product reliability and minimize costs associated with
rework and scrap.
• Continually monitor and develop processes that improve quality.
• Plan appropriately to meet deadlines minimizing extended schedules and stress
• Competency in certifications associated with different types of plating and heat
treat.
• Competency in ROHS compliance and prohibited materials.
• Manage the quality systems for IS9001; AS9100; PPAP.
• Advanced writing and technical communication skills utilizing links.
• Able to correctly read and interpret engineering drawings and complex blueprints
• Properly relate materials required from reading drawings, prints, and processes
• Administer routings, bills of material, QPA from a traveler.
• Understanding of each work center and their processes.
• Work in a safe and professional manner
QUALIFICATIONS
Bachelor's degree or an equivalent combination of education and experience.
Must have a background in manufacturing processes
The ability to read and speak English language with comprehension skills
sufficient to understand safety standards and job performance expectations.
The ability to add, subtract, multiply, and divide in all units of measure, using
whole numbers, common fractions, and decimals, as well as the ability to
compute rate, ratio, and percent and to draw and interpret bar graphs.
Ability to define problems, collect data, establish facts, and draw valid
conclusions. Ability to interpret an extensive variety of technical instructions in
mathematical or diagram form as well as deal with several abstract and concrete
variables.
PHYSICAL DEMANDS
Sit, stand, hands to finger, handle grab, reach, talk, listen, hear, stoop, kneel,
crouch, repetitive motions
Frequently lift and move 10 pounds
Occasionally lift and move 75 pounds
Vision abilities include close vision, distance vision, depth perception, adjust
focus
WORK ENVIRONMENT
Frequently exposed to loud noise.
May be exposed through air or skin to oils and other cutting fluids.
Occasionally be exposed to moving mechanical parts in a high noise level
environment.
The noise level in the environment is quiet to loud.
Why work for Personnel Plus, Inc.
As the area's largest Staffing Service, we value adding you as a member of our great team
Your application will be considered for many urgent openings
Apply Today - work today
Flex pay - choose Direct Deposit, pay card, or paper check
Health Benefits - Medical, Dental, Vision, Disability, Life Insurance
We never charge a fee
To apply for this job, send us your resume OR Email Contact information OR call 208.733.7300 OR send a TEXT MESSAGE OR visit your local office OR click the Apply for Job button below
Trust our employment professional to be your advocate and help find that ideal position for you!