Day Shift
Full Time
Grave Yard Shift
Long Term
Part Time
Seasonal
Swing Shift
Temp to Hire
Temporary
Pay Starts: $D.O.E.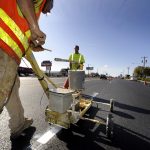 Website PersonnelPlus Personnel Plus, Inc.
Your Total Staffing Solution!
We are looking to hire an enthusiastic and hardworking Roadway Maintenance Laborer to assist in the pouring, smoothing, and setting of asphalt for roads and parking lots. The responsibilities of an Asphalt Laborer include delivering water to the rollers and plate compactors, preparing the pavement saw, measuring the line for the day, sweeping and raking the deck, working in between the mill, directing traffic, and cleaning the area at the end of the day.
To ensure success as a Roadway Maintenance Laborer, you should be physically fit and be able to work long hours in all weather conditions. Asphalt Laborers are often required to work over weekends, on public holidays, and at night.
Maintain highways, municipal and rural roads, airport runways, and rights-of-way. Duties include patching broken or eroded pavement, repairing guard rails, highway markers, and snow fences. May also mow or clear brush from along road or plow snow from roadway.
Responsibilities:
Offloading the truck and gathering tools for the day.
Transporting rakes, lutes, shovels, and spray cans to the paver.
Moving the pavement saw to the transverse joint.
Sweeping and cleaning the area in front of the paver.
Measuring and lining out the area for the day's paving.
Working as a Flagger to direct motorists away from the work zone.
Transporting water to the rollers, power broom, and plate compactor.
Building a launchpad for the paver at the beginning of the pull.
Assisting the screed operator.
Shoveling material out to the end gate.
Maintaining cleanliness and packing equipment away at the end of the day.
Requirements:
High school diploma.
Proven work experience as an Asphalt Laborer or Flagger.
Knowledge of road and traffic regulations.
Ability to work as part of a team.
Ability to work on weekends, public holidays, and at night.
Ability to travel to wherever the job is needed.
Ability to work for long hours in all weather conditions.
Ability to stand for extended periods of time.
Ability to do repetitive movement and lift various about.
Excellent communication and observation skills.
To apply for this job, send us your resume OR Email Contact information OR call 208.378.8700 OR visit your local office OR click the 'Apply for Job' button below