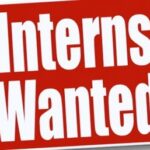 Sales and Marketing Intern $15.00 p/h Boise, ID
Job Summary:
Boise manufacturing company is seeking a highly organized, hardworking, and self-motivated sales and marketing intern. The candidate must be able to multi-task, have superb time management and organization skills, efficient and comfortable being a member of a team. The candidate will be well-versed in general office operations, including electronic correspondence, filing, typing reports, and working with spreadsheets. Our sales and marketing intern is one of the faces of our organization and should have strong people and communication skills to best work with our customers and employees. 
Duties:
Assist the Sales Coordinator in the following tasks:

Preparing for various trade shows, including but not limited to preparing contracts for signatures, keeping track of important dates, travel, organizing and packing trade show materials

Organizing and maintaining promotional materials 

Updating and maintaining various marketing materials

Maintaining and updating various spreadsheets and reports

Updating weekly, monthly, and quarterly ads

Inventory information on various websites 

Answer incoming calls and assume other receptionist duties as needed

During the internship, the intern will design one project that will benefit our company and help advance the intern's knowledge

The project will be evaluated and approved by the supervisor before the start of the project
Required Qualifications and Skills:
High school diploma or equivalency required

Must currently be enrolled in a 4-year college/university program, preferred majors: business, marketing, finance, sales, entrepreneurship, or similar major

At least one-year of prior work experience in an office environment

Good organization, scheduling, and time management skills

Previous experience with administrative duties in an office setting preferred

Proficiency in MS Office with expertise in Microsoft Word, PowerPoint, and Excel

Excellent written and oral communication skills
Why work for Personnel Plus, Inc.
As the area's largest Staffing Service, we value adding you as a member of our great team
Your application will be considered for many urgent openings
Apply Today - work today
Flex pay - choose Direct Deposit, pay card, or paper check
Health Benefits - Medical, Dental, Vision, Disability, Life Insurance
We never charge a fee
To apply for this job, send us your resume OR Email Contact information OR call 208.378.8700 OR send a TEXT MESSAGE OR visit your local office OR click the Apply for Job button below
Trust our employment professional to be your advocate and help find that ideal position for you!