Day Shift
Full Time
Temp to Hire
Pay Starts: $12
Job ID: BUR174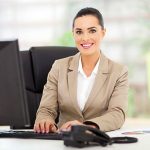 Website PersonnelPlus Personnel Plus, Inc.
Your Total Staffing Solution!
The Retail Service Associate (RSA) is a full-time position that requires an understanding of your role and has the maturity, responsibility, integrity, and professionalism to match. You will be the front lines of leading efforts to define, deploy, sale and support their services, products, and most importantly their customers. You will provide support and troubleshoot customers' complications with services and the ability to combine deep organization and problem-solving expertise with interpersonal and communication skills to establish yourself as a sales associate within the company.
Essential Job Functions:
Make sales contacts, research customer needs and develop applications, products, and service solutions
Researches and cultivates potential customers make regular sales calls to develop relationships and follow up on leads
Maintain and up-to-date understanding of industry trends and products through training and self-development
Exceeds customer expectations and resolves and troubleshoots issues with products and services
Generates various tracking and documentations for reporting and accountability purposes
Supports the Company by proactively promotion it within the community and other PR events
Participates in various leadership, team leader roles such as marketing, services, and product development, cross training, and testing of products and services
Other duties as assigned to meet the Company's needs
Ability to know how to utilize, program cell phones, internet and other system and office equipment skills
Selling products and services using solid arguments to prospective customers and performing cost-benefit analyses of existing and potential customers
A flexible schedule and periodical ability to travel for training opportunities
Will be a 'floater' working between offices in Rupert and Burley
Education and Experience:
High School Diploma or GED
Some college/Associates would be preferred, but not required
Bilingual is a plus
Sales experience is a plus
Exceptional interpersonal skills to handle sensitive and confidential situations
The ideal candidate for this position would be a team player, personable, positive, professional, upbeat, and energetic, takes initiative, uses tact, and diplomacy
Work requires continual and extensive attention to detail
Must be able to work in a fast-paced environment with demonstrated ability to juggle multiple competing tasks and demands
Resourceful, roll up the sleeves attitude
The model candidate must have the initiative to resolve problems, seek answers independently, and enthusiastically persist until goals are achieved
A passion for assisting and making customers happy is a must
Working knowledge of Microsoft Office applications (to include but not limited to Word and Excel), CRM software, and an ability to navigate various software packages
Strong office and phone etiquette
Retail Sales experience / Cash handling/ability to count back change is a must
Basic math and accounting skills