Full Time
Temp to Hire
Pay Starts: $13.00
Job ID: 73626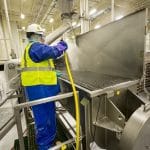 Website PersonnelPlus Personnel Plus, Inc.
Your Total Staffing Solution!
Sanitation Specialist
JOB SUMMARY:
Personnel Plus is looking to hire Graveyard Sanitation Specialist's to work in a production operations environment.
M-F Shifts are: 10 PM to 7:00AM  These shifts are 40+/hrs per week.
The Sanitation Specialist cleans and sanitizes production equipment and area. Cleans and sanitizes building/facility. Completes all tasks in a safe manner as prescribed by OSHA, instruction, company policy, SSOP, and common sense.
RESPONSIBILITIES AND DUTIES:
(70%) Clean and sanitize production equipment
Clean facilities and equipment, in proper sequence, and in a timely manner enabling pre-op inspection and set-up to begin on time for a successful start-up
Bag vital electrical parts of equipment prior to using water/chemistry
Clean and sanitize mixers, belts, freezers, fryers, blancher, and miscellaneous containers and equipment
Clean machines as specified by company guidelines
Applies chemicals for cleaning, degreasing and sanitizing using foamers, sprayers, and hoses.
Ability to learn to properly use sanitation equipment (floor scrubber, floor buffer, chemical foamer, etc.)
Ability to mix, test, and apply company guideline-required chemicals to surfaces in assigned areas
(30%) Performs general cleaning tasks in production area
Ensure production floors, walls, and drains are cleaned and sanitized
Squeegee floors
Empty all waste containers
Using aerial lift equipment to clean ceilings, air units, light fixtures, etc.
Complete pre-inspections prior to QA (Quality) doing pre-operation inspections to minimize deficiencies found.
Other duties as assigned
SOFT SKILLS
Ability to work independently as well as in a group
Identify safety concerns and be accountable for your own throughout your shift
Operate chemical equipment in a safe manner
Complete annual training as well as chemical training outside of schedule sanitation process
Ability to compensate for lack of scheduled team members and able to work till job is finished
Communicate with peers and leaders in an effective, timely manner.
SAFETY: (100%)
Perform all duties within OSHA and company safety standards; LOTO, wear PPE and maintain safety equipment.
Maintain a safe, clean and organized work area.
Immediately report all accidents and deficiencies to the lead/supervisor/manager
Ensure safety devices are installed and working properly
Handles equipment and chemicals according to government, SDS and company safety standards.
QUALIFICATIONS
High School Diploma or GED
Prolonged standing and frequent walking
Must be able to lift 50 lbs. frequently
Must be able to balance on ladders and on top of platforms and equipment
Ability to work in production environment with constant exposure to loud machinery and vibration exposure with use of power tools
Ability to read chemical labels, Safety Data Sheets (SDS), and Standard Operating Procedures (SOP's) to learn how to properly handle chemicals they will be using
Must be able to wear all required PPE throughout shift as needed
Follow Good Manufacturing Practices (GMPs), Hazard Analysis and Critical Control Point (HACCP) training, along with company pre-requisite programs, Standard Operating Procedures (SOP's), and Sanitation Standard Operating Procedures (SSOP's).
Reports to:      Sanitation Management Team
To apply for this job, send us your resume OR Email Contact information OR call 208.733.7300 OR send a TEXT MESSAGE OR visit your local office OR click the 'Apply for Job' button below