Sanitation
Day Shift
Full Time
Long Term
Night Shift
Swing Shift
Temp to Hire
Salary: 15.00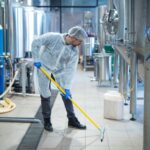 Website PersonnelPlus Personnel Plus, Inc.
Your Total Staffing Solution!
Job Description
Summary: Keeps working areas in production departments and offices in clean and orderly condition by performing the
following duties.
Essential Duties and Responsibilities:
– Ensure personal safety, food safety and quality protocols are followed.
– Keeps work area clean and orderly in accordance with Good Manufacturing Practices, HACCP, and 5S.
– Performs assigned tasks in a manner that does not endanger the environment and adheres to company and
regulatory standards.
– Actively participates in the continuous improvement process.
– Work in a safe manner in accordance to OSHA guidelines and plant policies.
– Assist in keeping the production areas around the facility clean, including:
o Cleans floors in the production areas of the facility.
o Polishes metal work.
o Washes walls, ceiling, and woodwork.
o Transports trash and waste to disposal area.
o Replenishes bathroom supplies.
o Replaces light bulbs.
o Operates industrial truck to transport materials within plant.
o Keep dispensers filled and in good repair.
o Keep Floor and Mat Sanitizers serviced.
o Sweep and mop warehouses.
o Keep Ingredient and finished product containers or bags free of product residue.
o Inspect and keep propane bottles full.
o Keep floor drains cleaned and sanitized.
o Snow Removal from sidewalks and entries.
Knowledge/Experience/Skills:
– Must be able to work in hot and cold conditions and
climb on and off lift truck throughout shift
– Need reading, writing, math, and computer skills.
– Ability to operate (or learn to operate) lift truck
– Be able to lift 50 pounds throughout shift
– Must be dependable and trustworthy
– Self-motivated and ability to work with little
supervision
Why work for Personnel Plus, Inc.
As the area's largest Staffing Service, we value adding you as a member to our great team
Your application will be considered for many urgent openings
Flex pay - choose Direct Deposit, pay card, or paper check
We never charge a fee
To apply for this job, send us your resume OR Email Contact information OR call 208.733.7300 OR send a TEXT MESSAGE OR visit your local office OR click the Apply for Job button below
Trust our employment professional to be your advocate and help find that ideal position for you!