Day Shift
Seasonal
Pay Starts: $$10-$14/hr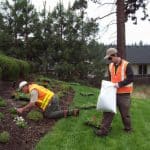 Website PersonnelPlus Personnel Plus, Inc.
Your Total Staffing Solution!
Seasonal Parks + Maintenance Staff – Mountain Home, ID $10-$14 per hour
Assists with a variety of Parks maintenance and Cemetery maintenance duties as requested by the Parks Superintendent.
Must be at least 18 years old with a valid Idaho drivers license and a good driving record.
This position will work 36-40 hours per week, evenings and weekends included.
$10-$14 per hour
The primary function of an employee in this class is to perform maintenance, repair, inspection, and service work on City park and cemetery buildings and grounds, including equipment, machinery, irrigation systems, and playground structures. Additional duties include soil and plant cultivation, pesticide and fertilization applications, cleanup duties and public restroom cleaning and maintenance. The work is performed under the direct supervision of the Parks Superintendent/Parks Foreman/Cemetery Sexton. The principal duties of this class are performed outdoors and may include working in adverse weather conditions and hazards involving the use of power tools, equipment and hazardous chemicals.
Examples of Work Duties
Performs maintenance and repair work on buildings, shelters, restrooms, playground and picnic areas, and other park structures;
Performs general grounds maintenance, including mowing, trimming, weeding, aerating, and application of fertilizers;
Performs general landscape and cleanup duties, including trash and debris removal;
Maintains and cleans septic systems and public restroom facilities;
Inspects, maintains, and repairs benches, picnic tables, receptacles, playground structures, and signs;
Maintains park settings, trees, playgrounds, and other planting areas;
Assists with tree planting, pruning, and removal;
Maintains and repairs motorized, mechanical and grounds-keeping equipment;
Assists with scheduled maintenance and repair of automated irrigation systems;
Provides facility and equipment security;
Repairs vandalism and other damage;
Assists during construction projects;
Provides information and answers inquiries from the public;
Sets up for reservations and special events;
Performs all work duties and activities in accordance with policies, procedures, and safety practices;
May assists with burial services including, but not limited to, opening and closing lots, set ups, and monument settings;
Performs other related duties as required.
Knowledge, Skills and Abilities
Knowledge of:
Basic grounds maintenance skills, including but not limited to, mowing, planting, pruning, and irrigation;
Ability to:
Follow written and oral instructions;
Operate power equipment, including but not limited to, groundskeeping equipment, riding and walk-behind mowers, trimmers, backhoe and tractor, and related equipment;
Operate hand tools;
Operate a motor vehicle and trailer, which may include a dump truck and front end loader;
Operate, adjust, and monitor automated irrigation control systems;
Work weekends, evenings, and holidays;
Communicate effectively with the public and other employees that may include sensitive situations.
Acceptable Experience and Training
High school diploma or GED equivalency; or
Any equivalent combination of experience and training which provides the knowledge and abilities necessary to perform the work.
Valid Idaho driver's license required;
First Aid and CPR certification may be required;
CDL with air endorsement is preferred
Please call 208-378-8700 for application and interview information.