Day Shift
Full Time
Temporary
12 USD / Hour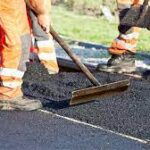 Seasonal Public Works Technician
Personnel Plus is HIRING Seasonal Public Works Technician in Jerome, ID.
Monday – Friday
Day shift
$12
40-hour weeks
Duties:
Assists with street sanding, pothole patching, street painting, backfill street cuts, street crack filling, stop sign replacement, sign installation and repair
Performs a variety of manual tasks as needed; shovels dirt, gravel, and other materials, cleans up work sites, repairs drain pipes, etc.
May be asked to operate light equipment
Performs equipment preparation and minor preventive maintenance on vehicles, trucks and related light equipment; monitors oil, grease, and fuel levels to insure proper lubrication on a daily basis
May assist in water and sewer main installation and repairs
Maintains a proper professional image and generates positive public image
Requirements:
Working knowledge of a variety of semi-skilled maintenance and manual tasks
Some knowledge of equipment parts and preventive maintenance
Knowledge of job safety and safety precautions related
Working knowledge of traffic laws and regulations
Ability to follow written and verbal instructions
Ability to perform manual tasks for sustained periods of time
Ability to establish and maintain effective working relationships with fellow employees, the public and supervisors
Must have a valid Driver's License
Must be able to push, pull, left 70 pounds
High School diploma or GED
Why work for Personnel Plus, Inc.
As the area's largest Staffing Service, we value adding you as a member of our great team
Your application will be considered for many urgent openings
Apply Today - work today
Flex pay - choose Direct Deposit, pay card, or paper check
Health Benefits - Medical, Dental, Vision, Disability, Life Insurance
We never charge a fee
To apply for this job, send us your resume OR Email Contact information OR call 208.733.7300 OR send a TEXT MESSAGE OR visit your local office OR click the Apply for Job button below
Trust our employment professional to be your advocate and help find that ideal position for you!