Day Shift
Full Time
Temp to Hire
Pay Starts: $13.00
Job ID: 110404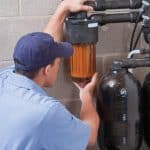 Website PersonnelPlus Personnel Plus, Inc.
Your Total Staffing Solution!
Personnel Plus of Twin falls is looking for 1 technician to service and install water softeners and drinking water systems. The service technician is responsible for the installation, service, preventive maintenance, diagnostic repair, removal, and selling of water softeners and drinking water systems for residential and commercial customers. Must be able to communicate well with customers and presentable. Must be able to lift up to 75 lbs with a clean background.
Hours: Monday-Friday 8:00am to 5:00pm
Pay: $13.00
Key Areas of Responsibility:
Executes all processes and procedures related to product installations utilizing various software tools and mechanical devices to record data.
Provides professional technical service and repair work at customer locations.
Executes all documentation required for the customer, and for corporate record and data management.
Provides support to other Product Service Specialists as needed.
Maintains a clean and safe work environment.
Maintains company tools, resources, and spare parts inventory.
Manages the customer relationship by effectively explaining the installation, repair, or replacement work being performed.
Ensures that payment terms have been complied with prior to service work being performed.
Job Knowledge, Skills, and Experience:
Ability to work in a fast-paced environment and show initiative.
Strong work ethic, self-motivated, action and goal oriented.
Proven "customer-centric" focus and approach with the ability to establish and change priorities as required.
Problem solver, excellent listening and verbal skills, and exceptional customer service phone skills.
Organized and able to provide detailed follow-up and follow-through of all company processes and procedures.
Professional image, outstanding customer relations skills, and comfortable talking to customers about product and payment options.
Working knowledge of common software programs such as Word, Excel, etc.; familiarity with data entry systems a plus.
Valid drivers' license and a clean driving record.
Mechanical aptitude, good analytical, problem solving, and trouble shooting skills; understanding the technology contained in the company's products is essential.
Plumbing experience and skills (soldering); plumbing certification a plus.
Accurate management of data, willingness to help others and an interest in executing responsibilities in a timely and efficient manner.
To apply for this job, send us your resume OR Email Contact information OR call 208.733.7300 OR send a TEXT MESSAGE OR visit your local office OR click the 'Apply for Job' button below
To apply for this job, send us your resume OR Email Contact information OR call 208.733.7300 OR send a TEXT MESSAGE OR visit your local office OR click the 'Apply for Job' button below