Full Time
Overtime
Temp to Hire
18.00 USD / Hour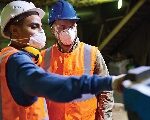 Shift Supervisor
Summary:
The Shift Supervisor plays a key role in the continued success of Idapro by supervising the day-to-day production operations. Some of the responsibilities include continuous process improvements, safety, quality controls as well as leadership and development of Idapro employees.
Essential Duties & Responsibilities:
Operate equipment safely and effectively for production processing
Operate lift trucks, skid steer, and other heavy equipment in a safe manner
Ensure all employees are adhering to safety procedures and company policies
Adhere to health and safety regulations, such as proper PPE
Utilize the "lead by example," method by creating a work culture that reflects a commitment to employee safety, product quality, food safety, and positive employee relations
Ensure compliance with all quality and safety requirements
Employee development which includes development plans for members of your team
Effectively complete and communicate progressive discipline to members of your team
Investigate and report all accidents/incidents
Ensure all team members are trained in their specific area of responsibility
Education and/or Experience:
Highschool diploma or GED required
Minimum of one year in a supervisory role preferred
Minimum of one year in warehouse environment, food facility preferred
Working Conditions:

Must be able to work in both a hot and humid environment as well as cold and wet conditions for twelve (12) hours at a time.
Must be able to lift and carry up to 50 pounds, including lifting at shoulder level or above
Must be able to operate heavy machinery

Job Type: Full-time

Benefits:

401(k)
Dental Insurance
Flexible spending account
Health insurance
Life insurance
Paid time off
Vision insurance

Schedule:

Education:

High school or equivalent (Preferred)

Experience:

Manufacturing: 1 year (Preferred)
Why work for Personnel Plus, Inc.
As the area's largest Staffing Service, we value adding you as a member of our great team
Your application will be considered for many urgent openings
Apply Today - work today
Flex pay - choose Direct Deposit, pay card, or paper check
Health Benefits - Medical, Dental, Vision, Disability, Life Insurance
We never charge a fee
To apply for this job, send us your resume OR Email Contact information OR call 208.678.4040 OR send a TEXT MESSAGE OR visit your local office OR click the Apply for Job button below
Trust our employment professional to be your advocate and help find that ideal position for you!