Day Shift
Full Time
Job ID: 52096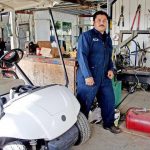 Website PersonnelPlus Personnel Plus, Inc.
Your Total Staffing Solution!
Looking for experienced and certified small engine mechanics to inspect, service, and repair motorized power equipment. Mechanics often specialize in one type of equipment, such as small engine power tools, or outdoor power equipment, etc.
Duties
Small engine mechanics typically do the following:
Discuss equipment issues, maintenance plans, and work performed with customers
Perform routine engine maintenance, such as lubricating parts and replacing spark plugs
Test and inspect engines for malfunctioning parts
Adjust components according to specifications
Repair or replace worn, defective, or broken parts
Reassemble and reinstall components and engines following repairs
Keep records of inspections, test results, work performed, and parts used
Small engine mechanics work on power equipment ranging from snowmobiles to chain saws. When equipment breaks down, mechanics use many strategies to diagnose the source and extent of the problem. Small engine mechanics identify mechanical, electrical, and fuel system problems and make necessary repairs.
Mechanics' tasks vary in complexity and difficulty. Maintenance inspections and repairs, for example, involve minor adjustments or the replacement of a single part. Hand calibration, piston calibration, and spark plug replacement, however, may require taking an engine apart completely
Mechanics use a variety of hand tools, including screwdrivers, wrenches, and pliers, for many common tasks. Some mechanics also may use compression gauges, ammeters, and voltmeters to test engine performance. For more complicated procedures, they commonly use pneumatic tools, which are powered by compressed air, or diagnostic equipment.
Outdoor power equipment and other small engine mechanics service and repair outdoor power equipment, such as lawnmowers, hedge trimmers, garden tractors, and portable generators. Some mechanics may work on snowblowers and snowmobiles, but this work is highly seasonal and regional
To apply for this job, send us your resume OR Email Contact information OR call 208.678.4040 OR send a TEXT MESSAGE OR visit your local office OR click the 'Apply for Job' button below