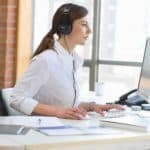 Website PersonnelPlus Personnel Plus Inc
Your Total Staffing Solution!
Job Title : Transcriptionist
Posted : 01/14/2019
Location :  Twin Falls,  Idaho 83301
Start Pay : $10.00-$25.00 DOE
Job ID : PER5986
Job Duties (Essential Functions):
Produce near instantaneous transcription of the spoken word into text as close to verbatim as possible using speech recognition technology.
Plan ahead for scheduled programs and events by conducting research related to the correct spelling of words and names, etc. likely to be referenced in the event.
Record notes as needed and as per company procedures.
Participate in ongoing trainings as needed.
Skills/Qualifications:
Minimum:
Experienced in the development and maintenance of a dictionary of news vocabulary
Ability to read, write and speak English proficiently; a clear speaking voice and excellent enunciation skills
Dedicated to ongoing process of improving skills throughout career
Good cultural and news general knowledge
Detail oriented, follows procedures
Some technical familiarity with computers
Able to work flexible hours, including nights, weekends, and holidays
Reliable and punctual; exceptional customer service skills, team player
Proficient in Microsoft Outlook/ Word Doc and able to learn new systems quickly