Pay Starts: $DOE
Job ID: 50174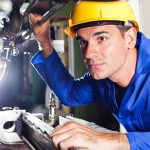 Website PersonnelPlus Personnel Plus, Inc.
Your Total Staffing Solution!
General Summary:
This position is for an underground utility fiber and cable construction laborer. This position will assist the operator in installing conduit and fiber from the pedestal to the home.
Knowledge, Skills, and Abilities:
• Ability to use mini-excavator and other plant equipment to plant underground facilities.
• Understand how to effectively set up a job site. (Equipment placement, reel trailer placement)
• Understand how to expose (pothole) other utilities
• Understand the underground locating process
• Understand clearances from the other utilities, ground, road, highway, sidewalk and non-pedestrian areas
• Knowledge and ability to properly transport, handle and place conduits (rolled and stick)
• Knowledge and ability to transport fiber reels
• Knowledge and ability to properly install fiber cables in conduits
• Knowledge and ability to properly set and secure pedestal and vaults
• Ability to read and interpret network prints
• Understand and follow OSHA safety requirements to complete the job(s) safely and effectively
• Communicate by phone frequently throughout the workday
• Follow direction(s) specifically delivered from the crew leader
• Performs other duties as assigned
Education and Experience:
• High School diploma or GED required.
To apply for this job, send us your resume OR Email Contact information OR call 208.678.4040 OR send a TEXT MESSAGE OR visit your local office OR click the 'Apply for Job' button below