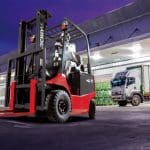 Website PersonnelPlus Personnel Plus, Inc.
Your Total Staffing Soultion
FT swing shift position with reputable Boise manufacturer- IMMEDIATE OPENING!
Shift hours: M-Th 4:30 pm-3:00 am & Friday as needed for manufacturing support.
Duties of this position include, but are not limited to:
Unload incoming freight trucks
Load trucks that transfer materials to and from numerous buildings on campus
Inventory Control- tracking incoming and outgoing materials.
Requirements:
The ability to interpret detailed instructions; oral & written, and possess strong communication skills.
Ability to safely operate overhead crane
Understanding of Material Pull sheets, and incoming freight purchase orders
Able to become forklift certified
Valid ID drivers license with an excellent driving record.
Prefer recent experience in forklift operation in a similar type position; preferably in a fast-paced work environment. Qualified candidates must be drug free, very physically fit, and able to lift up to 75 lbs. 
Successful candidate will exhibit outstanding operational skill and safety consciousness while demonstrating their ability to meet deadlines, and manage multiple tasks in a fast paced, highly active environment.
Shift hours: Monday-Thursday 4:30 pm-3:00 am & Friday as needed for manufacturing support.
This position offers an attractive benefit package
Pay $13+ DOE to start
Candidates will be contacted for immediate interview! 1[208]378-8700