Pay Starts: $10.00
Job ID: 51960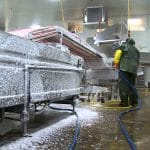 Website PersonnelPlus Personnel Plus, Inc.
Your Total Staffing Solution!
Position Summary:
The primary responsibility of the Sanitation Technician position is to clean and sanitize floors and facility equipment. Clean the facility structure from roof to floor on a scheduled basis. Receive and send linens as needed.
Requirements:
Maintains an acceptable level of cleanliness on all production and packaging equipment and work areas.
Eliminates any garbage, debris, and waste on the floor or on the production equipment.
Able to perform the essential duties and responsibilities with efficiency and accuracy while working independently and professionally.
May be called upon to help with a production position under special circumstances.
Must be able to read and follow chemical labels and review SDS's to obtain appropriate hazard information and safety statements. Must be able to follow mixing instructions for chemicals used in cleaning and sanitizing equipment.
Able to scrub equipment if needed to clean with scrub pads, brushes, etc.. Also need to be able to disassemble equipment for cleaning and reassemble when finished.
Able to be trained in the Lockout and Tagout program to be an authorized person.
Willing to work any shift for a cleanup and startup, which may include holidays and/or weekends.
Must be able to use good judgment in the absence of a supervisor or lead.
Must be able to learn and understand Master Sanitation Schedules, Bar Code System, Usage Logs, etc.
Willing to perform all other duties as assigned.
---
Various shifts are available,
swing shift 4 p.m. to 12 a.m. and graveyard 12 a.m. to 8 a.m.
Starting pay is $10.00 needs to be able to lift 30lbs to 50lbs, also needs to be able to work in hot and humid conditions. No felonies.
Burley
To apply for this job, send us your resume OR Email Contact information OR call 208.678.4040 OR send a TEXT MESSAGE OR visit your local office OR click the 'Apply for Job' button below