Day Shift
Full Time
Temp to Hire
15 USD / Hour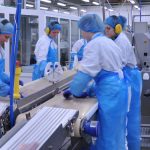 Plant Operator/Fish Trimmer
Personnel Plus is HIRING Plant Operator/Fish Trimmer in Buhl, ID.
Monday – Friday
Day shift
$15/hr
Weekend availability
40-hour weeks (possible OT)
Duties:
 Inspecting product coming out of various machines to ensure proper removal of waste and inspect that proper cuts are made
Maintain understanding of plant equipment operations and belt lifts. Operate equipment as directed by management and per safety protocols and operating instructions
Fill orders per special customer requests and work to deliver in a timely and efficient manner
Prepare boxes and packaging as required to meet customer orders
Interface with maintenance crew to ensure equipment operations are consistent with product quality standards. Alert maintenance or management when equipment or product quality falls below standards or there are safety concerns
Work with sanitation crew to ensure cleanliness of area equipment and ensure food safety standards are adhered to
Sort fish according to specification while paying close attention to detail and always working towards continual improvement
Always work to produce products people can trust by recognizing poor quality coming off the processing machines or at your station and communicating with management
Complete all tasks including equipment operations and knife handling based on required safety guidelines
Maintain appropriate housekeeping and sanitation procedures within the plant and wash down station regularly and as required
Provide prompt, friendly and courteous service to internal and external customer
Continually pursue sustainability of our natural resources with every decision, decreasing waste and being conscious of individual choices
Requirements:
High School diploma/GED
Must have flexible work schedule with varying hours as required
Must be able to lift 50+ pounds
Must be able to stand for long periods of time
Experience in food manufacturing is preferred
Exemplary attendance
Why work for Personnel Plus, Inc.
As the area's largest Staffing Service, we value adding you as a member of our great team
Your application will be considered for many urgent openings
Apply Today - work today
Flex pay - choose Direct Deposit, pay card, or paper check
Health Benefits - Medical, Dental, Vision, Disability, Life Insurance
We never charge a fee
To apply for this job, send us your resume OR Email Contact information OR call 208.733.7300 OR send a TEXT MESSAGE OR visit your local office OR click the Apply for Job button below
Trust our employment professional to be your advocate and help find that ideal position for you!