Day Shift
Full Time
Temp to Hire
16 USD / Hour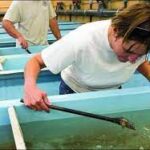 Fish Processing Plant
Personnel Plus of Twin Falls is HIRING individuals to work at a Fish Processing Plant in Buhl Idaho.
Full Time (40+ hours a week)
Full-time
$15 per hour
different shift available
Job description
Essential Functions:
Perform general warehouse duties: including and not limited to, truck loading, staging of product, inventory, receiving, and house keeping
Ability to interface with Warehousing Operational software
Warehouse inventory staging, counting, and organization.
Rotation of shift may include some Saturday and holiday work
Preparation of dry, fresh, or frozen product for shipment to include outside customers
Assure proper rotation of product FIFO (first in first out)
Lift truck operation within all locations
Knowledge of Invoice and Bill of Lading procedure
Understand loading procedure according to mapped load sheets supplied by Distribution Department.
Be aware of and adhere to safety concerns within all facilities and notify supervisor when necessary
Be aware of maintenance concerns within all facilities (out of the ordinary freezer/dock storage temperatures, fans, water leakage, etc.) and notify maintenance department when necessary
Pick-up and delivery of product from assigned local locations for company needs
Ability to perform specified tasks from elevated locations
Communicate and Work as a Team Member
Participate in some discussion about confidential/sensitive matters
Communicate with employees and others through written, oral, and face-to-face
Interactions:
Assist other team members in completion of work
Ability to work flexible work schedules with varying hours as required
Miscellaneous Duties as assigned
Requirements/Competencies
I. Communication Proficiency.
2. Demonstrable record keeping and organizational skills.
Work Environment
The worker is frequently subject to inside environmental conditions: Protection from weather conditions but not necessarily from temperature changes. The worker is subject to noise. The worker is subject to cold and wet conditions.
Physical Demands
This job involves medium work exerting up to 50 pounds of force occasionally, and/or up to 20 pounds of force frequently, and/or up to 10 pounds of force constantly to more objects.
The worker will be required to have a range of motion as follows:
Often requires walking or moving to accomplish tasks.
Often requires standing for sustained periods of time.
Occasionally requires stooping and reaching.
Occasionally requires pushing using upper extremities to press against something with steady force.
Occasionally requires pulling using upper extremities to exert force in order to draw, drag, haul or tug objects in a sustained motion.
Lifting is required on an occasional basis.
Often requires feeling of products perceiving attributes of objects, such as size, shape,temperature or texture by touching with skin, particularly that of fingertips.
Repetitive Motions are required which involve substantial movements of the wrists,
Position Type/Expected Hours of Work
This is a full time position. Monday Through Friday weekends as needed
Expected Hours of Work: Varies with pounds processed
Some local travel may be required.
Required Education and Experience:
Demonstrable record keeping and organizational skills.
Fundamental math skills and use of Microsoft Excel.
Exemplary Attendance.
Fundamental knowledge of writing standard operating procedures.
Ability to communicate both verbally and in written form.
Ability to effectively communicate in English.
Other Duties:
Please note this job description is not designed to cover or contain a comprehensive listing of activities, duties or responsibilities that are required of the employee for this job. Duties, responsibilities and activities may change at any time with or without notice.
Ability to commute/relocate:
Buhl, ID 83301: Reliably commute or planning to relocate before starting work (Preferred)
Education:
High school or equivalent (Preferred)
Experience:
Animal handling: 1 year (Preferred)
License/Certification:
Driver's License (Preferred)
Why work for Personnel Plus, Inc.
As the area's largest Staffing Service, we value adding you as a member of our great team
Your application will be considered for many urgent openings
Apply Today - work today
Flex pay - choose Direct Deposit, pay card, or paper check
Health Benefits - Medical, Dental, Vision, Disability, Life Insurance
We never charge a fee
To apply for this job, send us your resume OR Email Contact information OR call 208.733.7300 OR send a TEXT MESSAGE OR visit your local office OR click the Apply for Job button below
Trust our employment professional to be your advocate and help find that ideal position for you!