Day Shift
Full Time
Part Time
Swing Shift
12.50-13.50 USD / Hour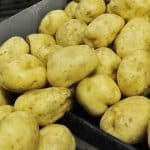 Potato Processing Warehouse
Job Description: This position requires the ability to operate various pieces of processing equipment including drums, dryers, and sorters.
Various shifts are available, Day shift 8 a.m. to 4 p.m. swing shift 4 p.m. to 12 a.m. and graveyard 12 a.m. to 8 a.m, Starting pay is $12.50-13.50 needs to be able to lift 30lbs to 50lbs, also needs to be able to work in hot and humid conditions, No felonies.
Work Environment:
Must be physically active and able to work around hot temperatures, noise, and dust.  Should be able to stand on concrete floors for extended periods and climb stairs.  Must follow all safety precautions while working independently and professionally.  Must be able to utilize cleaning chemicals and sanitizers safely. Understand and operate all warehouse equipment including forklift.  Function with little to no supervision.
Environmental/Physical aspects
This position requires lifting up to 50 lbs. throughout the shift.
Requires standing on concrete, walking, and using stairs consistently.
Consistent movement of hands, arms, and shoulders to complete tasks.
Able to work under pressure with time limitations.
Utilizes cleaning chemicals and sanitizers.
Following directions from operators and leads consistently.
Accountable to various members of plant management.
Why work for Personnel Plus, Inc.
As the area's largest Staffing Service, we value adding you as a member of our great team
Your application will be considered for many urgent openings
Apply Today - work today
Flex pay - choose Direct Deposit, pay card, or paper check
Health Benefits - Medical, Dental, Vision, Disability, Life Insurance
We never charge a fee
To apply for this job, send us your resume OR Email Contact information OR call 208.678.4040 OR send a TEXT MESSAGE OR visit your local office OR click the Apply for Job button below
Trust our employment professional to be your advocate and help find that ideal position for you!