SCRAPYARD LABORER
Day Shift
Full Time
Temp to Hire
Salary: 15.00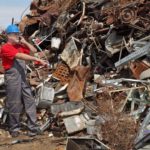 Website PersonnelPlus Personnel Plus, Inc.
Your Total Staffing Solution!
Personnel Plus of Twin Falls, Is looking for multiple individuals to work in a scrapyard/ recycling warehouse.
POSITION SUMMARY:
The laborer sorts, grades, processes, and prepares scrap metal for sale and shipment.
KEY RESULTS:
• Receives materials and may assist customers with the unloading of material in a safe and timely manner.
• Sorts and grades materials to proper specifications in an efficient and safe manner.
• Utilizes equipment and tools (such as torch, forklift, pallet mover, etc.) to process and/or size material to consistently provide a quality product per company and mill specifications.
• When required, properly and safely loads trucks or containers for transport.
• Produces accurate, timely, and legible paperwork.
• Daily demonstrates commitment to be present and work all hours assigned as needed to complete work orders.
• Willingly performs and completes any work assigned in an efficient, safe and productive manner.
• Cooperates with employees, customers, suppliers and others with honesty, integrity and respectful manner.
• Willingly complies with all regulatory requirements, including federal, state, local, company and customer statutes or rules.
• Effectively communicates with management and co-workers.
• Maintains a clean and safe work area.
• Manages time efficiently.
• Accepts responsibility for own decisions and actions.
PHYSICAL REQUIREMENTS
The ability to:
Frequently lift up to 60 pounds, and on occasion up to 100 pounds.
Withstand heat and cold as weather dictates.
Stand and walk for long periods of time.
Bend, kneel, push, pull, and reach repeatedly.
Perform overhead lifting.
See with good or corrected vision.
QUALIFICATIONS:
Employees must participate in and pass all screening procedures including integrity testing, background investigation, and drug screening.
Shift is Mon-Fri 8:00 am 5:00 pm
Why work for Personnel Plus, Inc.
As the area's largest Staffing Service, we value adding you as a member to our great team
Your application will be considered for many urgent openings
Flex pay - choose Direct Deposit, pay card, or paper check
We never charge a fee
To apply for this job, send us your resume OR Email Contact information OR call 208.733.7300 OR send a TEXT MESSAGE OR visit your local office OR click the Apply for Job button below
Trust our employment professional to be your advocate and help find that ideal position for you!