Day Shift
Full Time
No Weekends
Swing Shift
Temp to Hire
19.00 USD / Hour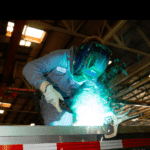 Skilled Welders- $ DOE $ – Show us your skills!
Choose your shift.
Day- Monday – Thursday: 5 am – 3:30 pm
Swing- Monday – Thursday: 4 pm- 2:30 am
NO WEEKENDS!
3-day weekends
Excellent Benefits- Lots of paid time off!
Immediate hire available
Fun, laid back work environment
Clean, safe, modern shop with top-of-the-line equipment
Duties:
Read blueprints, drawings, and measurements to prep job and prepare materials
Determine appropriate welding equipment, settings, and methods based on project requirements
Set up components for projects according to job specifications
Verify specifications before cutting and bending pieces to reduce waste
Test and inspect welded surfaces and structures to ensure weld integrity
Use a variety of power and hand tools to hammer, grind, and polish work
Maintain a safe, clean working environment
Requirements:
Drug-free
Ability to accurately measure, read parts lists, blueprints, and sketches
Ability to weld in a variety of positions; horizontally, vertically, and overhead
Ability to use material handling equipment such as overhead cranes to safely move large, heavy, material
Follow safety procedures and PPE requirements
Strong attention to detail
Able to lift up to 75 lbs.
Why work for Personnel Plus, Inc.
As the area's largest Staffing Service, we value adding you as a member of our great team
Your application will be considered for many urgent openings
Apply Today - work today
Flex pay - choose Direct Deposit, pay card, or paper check
Health Benefits - Medical, Dental, Vision, Disability, Life Insurance
We never charge a fee
To apply for this job, send us your resume OR Email Contact information OR call 208.378.8700 OR send a TEXT MESSAGE OR visit your local office OR click the Apply for Job button below
Trust our employment professional to be your advocate and help find that ideal position for you!