Day Shift
Full Time
No Weekends
Temp to Hire
18.00 USD / Hour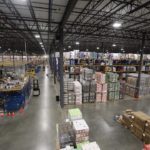 Warehouse Specialist-State of Idaho Liquor Division in Boise, ID. $18.00 p/h
3 IMMEDIATE OPENINGS
Day Shift, Monday- Friday 6:00 am- 3:00 pm
$18.00 p/h to start
Temp-to-hire opportunity + Excellent Benefits
Duties:
Maintain orders for all Liquor Stores in the State of Idaho
Receiving orders/Shipping orders
Picking orders/Packing orders
Stocking
Inventory
Greet individuals, answer phones, and provide information to customers
Unloading freight manually as needed and the use of a forklift as needed
Perform other related tasks as assigned
Requirements:
Able to lift 50 lbs. continuously throughout the shift
Knowledge of inventory control methods; basic math skills such as adding, subtracting, multiplying, and dividing.
General computer knowledge to access and retrieve data using electronic records systems
Must be able to bend, stoop, lift and move objects weighing up to 50 pounds
Must be able to stand and walk continuously throughout an 8-hour shift
Work together to keep the facility clean and maintain a safe working environment
Willingness to be trained on the operation of forklifts, pallet jacks, etc.
Able to pass a background check and be drug free
Why work for Personnel Plus, Inc.
As the area's largest Staffing Service, we value adding you as a member of our great team
Your application will be considered for many urgent openings
Apply Today - work today
Flex pay - choose Direct Deposit, pay card, or paper check
Health Benefits - Medical, Dental, Vision, Disability, Life Insurance
We never charge a fee
To apply for this job, send us your resume OR Email Contact information OR call 208.378.8700 OR send a TEXT MESSAGE OR visit your local office OR click the Apply for Job button below
Trust our employment professional to be your advocate and help find that ideal position for you!